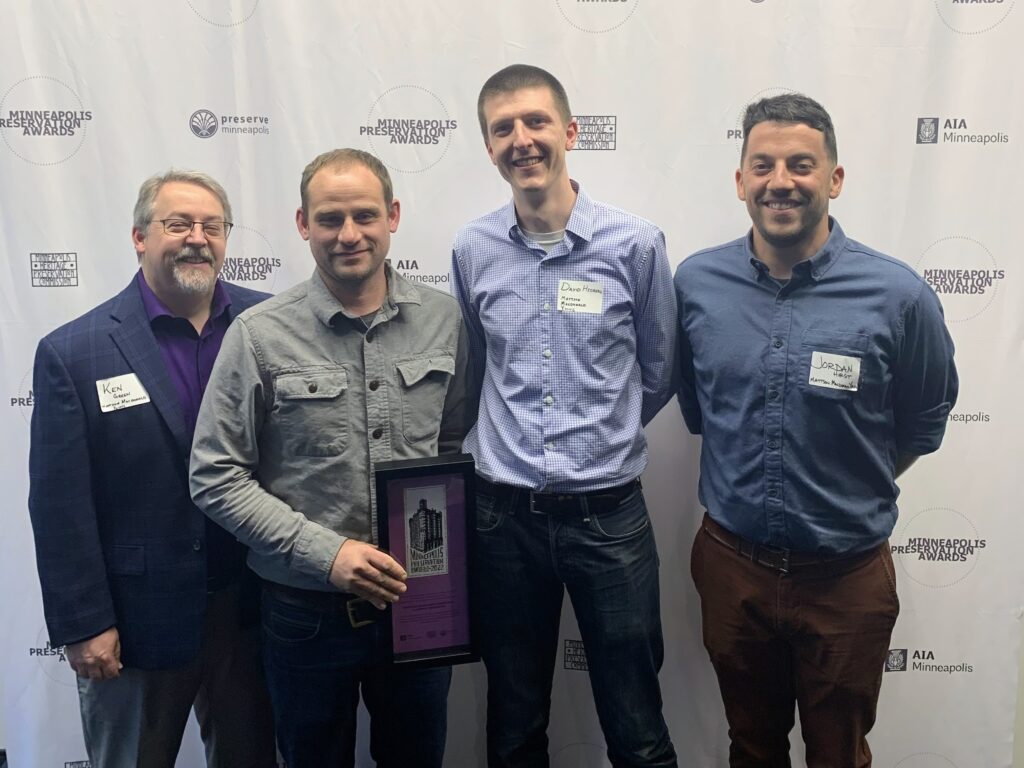 At MMY, we really like old historic buildings. We appreciate the opportunities provided by our clients to listen to a building tell its own story and guide it into the future, unharmed.
Recently, MMY was recognized at the 2022 AIA Minneapolis Preservation Awards. Of the nine projects honored, MMY provided structural engineering on three. The celebration was held at The Capri Theater in Minneapolis, where we previously structured a long-awaited renovation and addition.
Below are the projects on which we are proud to put our name:
Cloverfield Building
The Cloverfield Building's prominent location in the Minneapolis Warehouse Historic District with hundreds of pedestrians and cars passing by every day had been vacant for over 25 years. The rehabilitated building restores the highly detailed façade, reconnects the building to the street with new first floor storefront glazing, introduces natural light to the lower levels, and provides a modern office environment for 21st century tenants
Water Works Park and Pavilion
The Water Works project navigates building upon a site that had a long and complex history by giving light to each of varied histories and respectfully weaves together a tapestry of old and new histories that tell the story of the site while also providing a sustainable and equitable model for development. Located near St. Anthony Falls and the Stone Arch Bridge, the project serves as a great example for respectful, sustainable, and equitable development for the city of Minneapolis.
Milwaukee Road Depot Parapet Wall and Chimney Restoration
The Milwaukee Road Depot parapet wall and chimney restoration project preserved the historic integrity of this iconic Minneapolis building and will ensure the viability of the structure for the future. Work at both the parapet wall and the chimney were undertaken to remove an unsafe condition. Skilled masons brought a high level of care and craftsmanship to restore a rare example of original ornate terracotta detailing.