Recently, Higher Ground St. Paul received Honorable Mention in the 2018 All-Precast Concrete Solution Award category. The five-story emergency shelter and residential facility is the first phase of the Dorothy Day Place project, a concerted effort to combat homelessness in our community. We were privileged to work alongside Cermak Rhoades Architects to provide a durable and robust structure that will allow the Catholic Charities of St. Paul and Minneapolis to serve residents for years to come.
To learn more about the project, click here.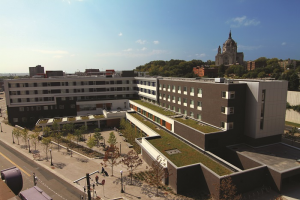 Photo from PCI website.